10 Reasons to Choose The Magic Blanket 
We are the Original Weighted Blanket. Designed by weighted blanket inventor, Keith Zivalich, in 1998.
MADE IN USA by highly trained and skilled machine operators
21 years of experience. 

FREE

Shipping

Machine washable AND machine dryable - one piece blanket design with duvet cover securely sewn onto the inner liner, making the Magic Blanket more durable and easy to wash and dry than blankets with removable covers.
NO ASSEMBLY REQUIRED; NO zippers that will tear, NO ties that will break, NO inner liner that will bunch up, NO cover to attach. 
Most new weighted blankets on the market that are mass produced in China have removable duvet covers. After a few twists and turns in the washer and dryer, zippers often become misaligned and jammed.

We only use 100% new, BPA-free, non-toxic, hypo-allergenic polypropylene pellets inside our Magic Blankets.

NO polyfill which makes the blanket feel stiff: NO Glass Beads which are the size and appearance of sugar grains and can work their way through seams, endangering pets and children. 
Get your blanket FAST! It only takes us 1-3 days to make your blanket *excluding holidays. 
Ultra-Soft, Ultra-Luxurious. The Weighted Blanket That Hugs You Back. As Seen In Forbes.   Affordable Hugs Anytime.
Customer Reviews
02/26/2021
Anonymous

United States
I recommend this product
The blanket is beautiful, soft, and really helped with sleep. I received excellent customer service when ordering this item.
01/19/2021
Dennis F.

United States
I recommend this product
Good sleep!
I believe I fall asleep more quickly and awaken much less frequently during the night now that I use the Magic Weighted Blanket. Besides that, Made In USA!
09/03/2020
Gloria B.

United States
I recommend this product
The best weighted blanket
I did lots of research as to what blanket to buy and boy I am happy I went with The Magic Weighted Blanket. I love the fact it's made in the USA! Secondly, they are the original company of weighted Blankets and had amazing reviews. It's arrived quick, soft as can be and evenly distributed weight. My fibromyalgia pain is honestly less when I use it at night and that's amazing because not much helps it. My older kids take it from me and fight over it when they come to visit and my younger kids keep asking for ones their size. This is going to make Christmas easy this year.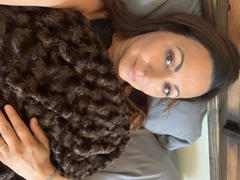 08/05/2020
Cindy R.

United States
I recommend this product
Love this blanket
This is not only a quality blanket but a great company. Made in the USA with great customer service! You won't be disappointed
05/25/2020
Linda V.

United States
I recommend this product
5 star
I love it. It is a little warm for summer but I am still glad I bought it. Its very soft.
04/06/2020
Anonymous

United States
I recommend this product
Second Blanket Purchased
Love this blanket! The quality is far superior to anything else on the market. I have loved it so much that I purchased another one for additional bedrooms in the house.
01/14/2020
Corby T.

United States
I recommend this product
I love it...although it does
I love it...although it does put me to sleep a little too quickly.... Is that possible??
I recommend this product
Best Gift Ever
My brother gifted me one of these blankets 7 months ago for Christmas— and I hardly go a night without it! I do have diagnosed anxiety disorder and this blanket has been a godsend. I also have really bad night sweats but rarely get them while using my blanket— I have still been faithfully using my blanket in the summer months in Texas! I have recommended these blankets to everyone pretty much- short of yelling it in the streets at people, they are that great. So if you're reading this review— just buy it. You won't regret it! Also— like I said, I've used it almost every night for the past 7 months and it still looks brand new!
06/26/2019
Steveb A.

United States
I recommend this product
Third blanket in the family
This company, owner, product and quality is perfect - that's the bottom line. Hence our third blanket in the family not including all the referrals. Love the product and there simply is no better item out there and no better service and caring a company.
Well made, great material, just taking a bit to get use to. I'm looking forward to many restful nights with it. Thanks All!
I am loving my magic weighted blanket. It is exactly what I wanted. The quality is incredible.
I love my Magic Blanket! Though being able to remove the cover for cleaning would be helpful.
Love it !!!
My son absolutely loves it...he is austistic & so when our therapist told us about the magic blacket decided to try it out & omg it was the best 160$ I've ver spent ..worth our $ ..my son started falling & staying asleep .& this was 4 years ago..& still till this day. when he had sleepovers he makes sure to never forget it & when people sleepover they beg him to use it lol ..I will be purchasing one fke my daughter & myself really soon
still very happy and enjoying my sleep.
Can I give it 10 stars instead of only 5? It's beyond wonderful!!!
This blanket is not just magic, its a miracle! For several years, I have had issues with waking up after sleeping 2-3 hours and then was unable to fall back asleep due to my mind racing and anxiety rising. I would toss and turn until about 4:30am, then just give up and get out of bed. From the first night I tried my blanket, I have been able to sleep soundly and peacefully 6 hours each night! That's a miracle to me! I'm even able to fall back asleep, if I should happen to get up in the middle of night to use rest room. Because I tend to run warm, I did notice I was a little too warm under the blanket at first. Now I just keep my feet uncovered, turn the thermostat down a little lower, and plan on wearing a summer nightgown year round. No problem! I am so grateful that I found the magic weighted blanket website and ordered 16lb chocolate chenile blanket. Thank you, thank you for making such a wonderful product!!!
Absolutely love my chenille blanket. Used to toss and turn, but no longer. Am sound sensitive, so I was worried about noise from beads. Has not been an issue at all. Love the feel of my blanket, even with the beads. If you are considering purchasing a weighted blanket, Magic Weighted Blankets are well worth the cost. You won't regret it.
Standard Sizes

Our Standard size blankets are perfect for those who crave a deep pressure feeling and love the feeling of weight on them while they sleep. Children do well with 6 pounds up to 10 pounds. Most women do well with the 16 pound and most men do well with the 20 pound.

User's Height (inches)

Blanket Size (inches)

36 - 42

36 x 48 - 6 lb

42 - 48

36 x 54 - 8 lb

48 - 54

36 x 60 - 10 lb
OR 42 x 60 - 12 lb

55 - 67

42 x 72 - 16 lb

68 & up

48 x 78 - 20 lb
Magic Lite
Some people really crave weight, others just want a little bit of pressure on top of them. That is why we create the Magic Lite; the perfect blanket that has a gentle hug feeling.
| User's Height | Blanket Size (inches) |
| --- | --- |
| Everyone :) | 48 x 78 - 14 lb |
Travel Size
Bring your Magic Blanket on the go! Perfect for travel anxiety or work/school settings.
| User's Height | Blanket Size (inches) |
| --- | --- |
| Everyone :) | 36 x 60 - 9 lb |